In the vast digital landscape of today's world, where technology intertwines with every aspect of our lives, having reliable computer support and services is akin to having a trusted companion by your side. Imagine cruising through a crucial project, and suddenly, a daunting error message flashes across your screen, bringing your progress to an abrupt halt. This is where the true value of computer support and services comes to light. With the right experts guiding you through the maze of technological challenges, you can conquer any digital dilemma with confidence. So, whether you're a tech enthusiast or a novice in need, join 24By7Live on this journey as we unlock the secrets to connecting with the right computer support and services, ensuring a seamless and hassle-free digital experience like never before.
Table of Content
Introduction
Understanding the Importance of Computer Support and Services
Identifying Your Business Needs
Evaluating Potential Service Providers
Key Elements to Consider
Conclusion
Connecting with the Right Computer Support and Services
In this ever-evolving digital world, the need for robust computer support and services is not a luxury but a necessity. Effective computer support and services not only streamline your operations but also safeguard your business from potential technological disruptions.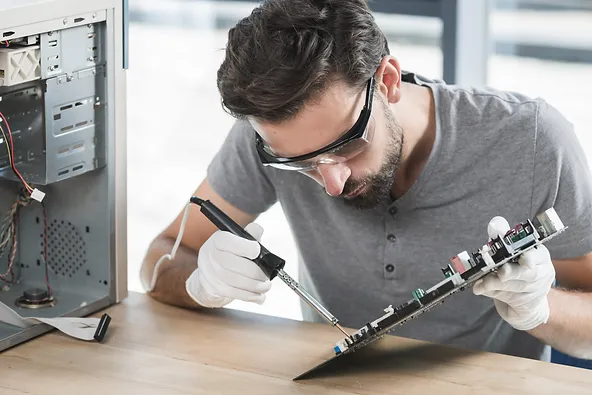 Understanding the Importance of Computer Support and Services
Understanding the critical role of computer support and services can transform the way your business functions. These services typically cover a broad range of IT solutions, including data management, network security, cloud services, hardware maintenance, and software updates.
When your business is equipped with professional computer support and services, you ensure that your company's technology infrastructure is optimally functioning, protected from cybersecurity threats, and constantly updated to leverage the best of what technology offers.
Identifying Your Business Needs
The key to finding the right computer support and services starts with identifying your business needs. Are you a small business in need of basic IT support or a large enterprise looking for a comprehensive digital transformation? This distinction will help guide you in the right direction.
Consider factors like your business size, industry, customer base, and future growth plans. Once you have a clear understanding of your needs, you can then align them with the right service providers.
Evaluating Potential Service Providers
Once you've defined your needs, it's time to evaluate potential service providers. The process involves checking their credibility, experience, range of services, customer reviews, and adaptability to technological advancements.
A provider's understanding of your industry and its unique needs can be a game-changer. Look for a company that understands your sector's specific requirements, challenges, and compliance standards.
Key Elements to Consider
There are several key elements you should consider when deciding on computer support and services for your business.
Experience and Expertise
When selecting an IT support provider, it's important to consider their track record and experience in the field. Look for a provider with a proven history of efficiently handling a range of technical issues. Their experience indicates their ability to deliver reliable solutions that are tailored to your specific needs. This expertise ensures that they can effectively address your technological challenges and provide you with the best possible support for your business.
Range of Services
When choosing a provider, look for one that offers diverse services like hardware and software solutions, network infrastructure setup, cybersecurity measures, data backup, etc. This ensures all your technological requirements are met efficiently and effectively.
Customer Support
A reputable company should offer round-the-clock support to promptly address any technical issues that may arise. This ensures that you have access to assistance and expertise at any time, minimizing downtime and maximizing the efficiency and productivity of your technology systems.
Customized Solutions
Since every business is unique, it's crucial to choose computer support and services that offer customized solutions tailored to your specific requirements. This ensures that the technology solutions provided align with your business needs, goals, and workflows, maximizing the effectiveness and efficiency of your IT infrastructure.
Conclusion
Connecting with the right computer support and services is pivotal for your business's smooth operations and future growth. Remember to thoroughly understand your business needs, evaluate potential service providers, and consider key elements like experience, range of services, customer support, and customized solutions.
By partnering with a comprehensive computer support and service provider like 24By7Live, you can set your business up for success and optimal scaling. Don't hesitate to reach out to 24By7Live, your ultimate partner in scaling your startup, and harness the power of technology to drive your business forward. With a deep understanding of the challenges and opportunities that startups face, 24By7Live is committed to providing comprehensive IT solutions designed to help startups achieve their goals. Our expert team offers a diverse range of services, including network security, data management, cloud services, and software updates. Contact 24By7Live today for computer support and services.